OPTIONS FOR VACATION- CANCÚN 2X1,VIAJES ALTURA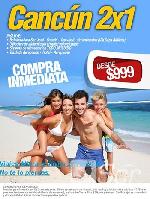 Cancun for vacation. It is the most recognized in the Caribbean of Mexico is the perfect place to relax and enjoy paradise.
Experience the unforgettable experience of spending your vacation in Cancun. This beautiful white sand island surrounded by clear waters of the Caribbean sea will captivate, 20 km of beautiful beaches to enjoy and many entertainment options, offers a variety of activities from water sports like jet skiing, parasailing, scuba, jungle tour or just sunbathe and enjoy the unbeatable sea. 
-Tickets AIR-CANCUN-SAN JOSE SAN JOSE WITHOUT TAXES (COPA AIRLINES VIA) 
-3 NIGHTS HOTEL ACCOMMODATION IN SELECTED 
-System SUPPLY ALL INCLUSIVE 
-TRANSFER airport-hotel-airport 
(0) Comments
Add Comment

Close
Be the first to comment on this listing!
Advertising
Gallery
Click the photos to enlarge
Features
Map
Book