Green Wave Surf and Skate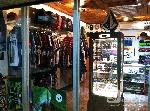 Venta de Ropa y Accesorios referente al Surf y Skate.
Green Wave Surf and Skate pone a su dispocisión marcas Mundiales referentes al Surf y Skate somos distribuidores autorizados de Quicksilver, Oakley, Volcom, Billabong, Channel Island Surfboards, FCS, Dragon Alliance, Nixon, Da Kine, Rusty, Element, World Industries, Chocolate, Treat by Zero, Girls, Zero, Real, Sector Nine, Foundation, Anti-Hero, Pig.
(0) Comments
Add Comment

Close
Be the first to comment on this listing!
Advertising
Gallery
Click the photos to enlarge
Features
Map