Restaurant Papa de Paramo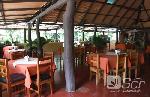 Restaurant of national and international food
In the restaurant Papá de Páramo we serve what you deserve because we have enough experience to offer you any food, whether domestic or international.
The Papá de Páramo Restaurant offer many options for cuts of meat, expertly prepared and exactly the way you want them.
We also offer pasta, rice, salads and desserts.
You can enjoy the
bar
and if you can take advantage of other services in the same complex as are the
hotel
,
ranchs and swimming pools.
Come and enjoy our especialities.
(0) Comments
Add Comment

Close
Be the first to comment on this listing!
Advertising
Gallery
Click the photos to enlarge
Features
Food Type
Typical food
Italian food
Mexican food
Fast food
Meets
Sea food
Ice cream shop
Snacks
Map
Tours in the area
Lodgins in the area