Air Conditioning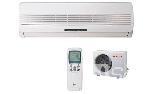 CLIMATE AND SOUTH PARTS Sale maintenance and repair of air conditioning, appliances, power tools, gate motors and residential and industrial electrical installations. Delivery service. Located 400 meters south of the hardware store Palmares, San Isidro,
CLIMATE AND SOUTH PARTS
In Costa Rica we are a company that provides air conditioning services in residential, commercial and industrial.
We specialize in the sale, installation, preventive maintenance, corrective maintenance of air conditioning equipment.
All services and products are guaranteed, the staff is properly trained to provide quality services, we are distinguished by being responsible, and provide quality services according to customer need.
SERVICES
EQUIPMENT SALES
Supply different kinds of air conditioning and brands, all backed service, warranty and installation, Brands.
Contact us and we will do a free estimate
INSTALLATION:
We install all types of air conditioning and is sold by us or that you purchased on your own. When we make an air conditioner, we pledge to carry it out in a professional and guaranteed. Remember that a bad installation can cause damage to your computer or have a very short shelf life.
PREVENTIVE MAINTENANCE:
We perform preventive maintenance to keep your equipment in good condition and extend life.
What preventive maintenance?
· To keep your equipment in good working
· Because a well-functioning team is efficient
· The performance efficiency results
· Performance provides economic benefits
· Economy based on low energy consumption and lower costs in auto-parts, better and longer life for equipment
· Because expected damage caused inconvenience to a good working environment and industrial
REPAIRS:
We provide repairs in a timely and professional teams either are in agreement or not.
(0) Comments
Add Comment

Close
Be the first to comment on this listing!
Advertising
Gallery
Click the photos to enlarge
Features
Map