Pest Control Costa Rica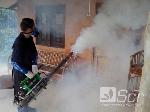 Pest Control Costa Rica: Fumigation, sanitation, elimination of breeding sites, traps, pesticides for extermination and maintenance
Fumigadora Alto Costa Rica
For more than 3 decades Fumigadora Alto Costa Rica is dedicated to provide solutions to various health problems in homes, businesses and
industry in the South of Costa Rica.
The IPM brings together the best techniques, equipment and trained personnel to successfully deal with a plague and so
meet the toxicological, economic demands, ecological and higuienicas customer.
The treatment we use are generally fumigation services, sanitation and waste shelters.
(0) Comments
Add Comment

Close
Be the first to comment on this listing!
Advertising
Gallery
Click the photos to enlarge
Features
Map