For Sale House with 2 local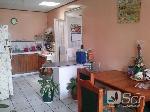 For sale house in the center of Perez Zeledon, street "La California",and has 2 premises are currently leased.
The house and 2 locals are concrete and is able to build a second floor., the structure is closed in all around the house and the 2 are currently rented premises, which allow return the money invested for the purchase. The etructura is located in the center of Perez Zeledon, "Calle La California" diagonal at Municipal Stadium, the price is 113 million colones, negotiable, will not accept exchange for the property. For more information fill out the contact form.
.
(0) Comments
Add Comment

Close
Be the first to comment on this listing!
Advertising
Gallery
Click the photos to enlarge
Features
Home Features
Patio or Deck
kitchen furniture
Wheelchair Access
Grates
Wash room
Community Features
Fitness Center
Aesthetic Center
Pool
Sports Complex
Football camp
Park
Hospital or Clinic
School
Controlled Access
Grocery store
Stores
Gas Station
Public lighting
Does it have land plat
Yes
Number of rooms similar to this one your are adding now
0
Map
Book