Thunderbird Hotel Pérez Zeledón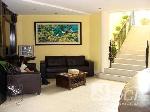 Welcome to Thunderbird Hotel!
Thunderbird Hotel/ Casino is the most elegant Hotel In downtown Peréz Zeledón. It is located only 100 meters West of the Musoc bus station, and provides the best services and accomodations.
Thunderbird Hotel/ Casino's structure has three floors and 21 rooms distributed in single and double rooms; each one properly equipped for the preference of our clients which include air conditioning, cable TV, private bathrooms, hot water, jacuzzi's, wireless internet, housekeeping, complimentary breakfast, and private parking.
In your Hotel experience take advantage of our Casinos Lucky's friendly environment located on the first floor is Casino Lucky's which is controlled by hight levels of security. Casino Lucky's hours operation are 11:00pm-4:00am.
Whether your stay at the Thunderbird Hotel (no is) for business or pleasure, you will notice the most beautiful places near the beach and forest's in Costa Rica, waiting for you at a very short distance from the Thunderbird Hotel/Casino.
(0) Comments
Add Comment

Close
Be the first to comment on this listing!
Advertising
Gallery
Click the photos to enlarge
Features
Features
Air Conditioned
Cable
Casino
Conference Center
Hot Water
Internet
Jacuzzi
Laundry
Parking
Phone
Restaurant
TV
Theme
Families
Luxury
Other
Traveler Type
Families
Single
Couple
Group
Budget
Standard
Economic
Luxury
Details of prices
Lowest price $ 40

Rates:
$40.00 Sencilla
$49.00 standard
$55.00 standard Plus
$63.00 Junior
$69.00 Master
$79.00 Suite
$99.00 Star suite
Map
Book
Activities in the area
Conservation Areas