Hotel los Crestones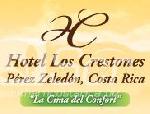 The Crestones Hotel has 27 rooms. We have rooms equipped for handicapped people.
Los Crestones Hotel is distinguished by a family atmosphere, cozy and comfortable. Come and enjoy what we offer.
Airconditioning.
Spacious rooms with private bathroom.
Restaurant with a variety of delicious dishes.
CableTelevision
Conference room with capacity for 50 people.
Catering for your event.
Hot water.
Cafeteria.
Internet for guests and fax.
Ample parking.
Security
wireless Internet
Pool
Telephone in the room



(0) Comments
Add Comment

Close
Be the first to comment on this listing!
Advertising
Gallery
Click the photos to enlarge
Features
Features
Air Conditioned
Bar
Cable
Conference Center
Fan
Hot Water
Internet
Jacuzzi
Laundry
Parking
Phone
Pool
Restaurant
TV
Theme
Families
Honeymoon
Other
Traveler Type
Families
Single
Couple
Group
Details of prices
Lowest price $ 14
Rates:
National Rates

Taxes included

Air Conditioning
Fan
1 Person
¢18,080
¢14,690
2 Persons:
¢24,860
¢20,340
3 Persons:
¢31,640
¢25,990
4 Persons:
¢38,420
¢31,640

---




National Corporate Rate

Taxes included

Air Conditioning

Fan
1 Person:
¢16,950
¢13,560
2 Persons:
¢23,730
¢19,210
3 Persons:
¢30,510
¢24,860
4 Persons:
¢37,290
¢30,510

---
Map
Book
Activities in the area
Conservation Areas