Hotel Palmazul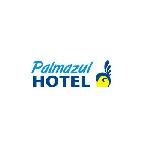 Hotel Palmazul offer comfortable rooms ideal for rest, it´s strategically located to see the breathtaking sunrises and sunsets of Chirripo National Park and just minutes from downtown.
Palmazul Hotel has rooms that are equipped according to your taste. Each room has a private bathroom, hot water, cable TV, excellent internet connection, a desk, a closet, a ceiling fan, air conditioning, a telephone, and a night table.
In the reception area there is fax service, local or international calls service, and there is also a computer which can be used to check your e-mail with no additional fee.
One of the strongest points of the hotel is the parking lot since it has enough space for 200 vehicles, so you will always find a place to park whether you are driving a car or a bus.
Plamazul Hotel was created with the idea of offering lodging services, food, and high quality entertainment.
Due to the continued growth of our city, San Isidro, we decided to build a hotel in which noise coming from vehicles and entertainment centers like bars and discos will not keep you awake or take away your peace while you rest.
You will feel secure in our hotel with its familiar and personalized environment.
(0) Comments
Add Comment

Close
Be the first to comment on this listing!
Advertising
Gallery
Click the photos to enlarge
Features
Features
Air Conditioned
Cable
Fan
Hot Water
Internet
Parking
Phone
Restaurant
TV
Theme
Adventure
Families
Honeymoon
Traveler Type
Families
Single
Couple
Group
Details of prices
Lowest price $ 27
Map
Book
Activities in the area
Conservation Areas