Hotel Chirripo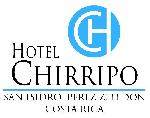 We are at the heart of San Isidro, in front the park
We are in the best place in the city, in front the park where EVERYTHING in San Isidro Pérez Zeledón is near: Banks, Restaurants, Bus Stops (San Jose at 200 meters and Dominical - Uvita at 300 m.).
San Isidro Park just remodeled and is very beautiful. Another attraction is the restaurant of the Hotel (now called Marenco's, but everyone knows him as Chirripo Restaurant).
This restaurant has a terrace overlooking the street is the ideal place to sit and admire the park, the surrounding mountains this beautiful valley and especially to see the atmosphere of a rural village in Costa Rica and admire its beautiful women.
We also have the cafeteria Delicias, where you can taste the famous coffee of Costa Rica with delicious pastries.
The hotel has a large and secure parking with overnight security. Also in the same building there are different services such as real estate office and clothing stores, souvenir shop and a travel agency and tourism.
In most of the time we have clerks who speak English
The Hotel has a rich history in San Isidro, was founded in 1970 and is a benchmark for any resident of this city.
All rooms have fan and cable TV and wireless internet, but there are some differences between rooms,

(0) Comments
Add Comment

Close
Be the first to comment on this listing!
Advertising
Gallery
Click the photos to enlarge
Features
Features
Bar
Cable
Fan
Internet
Mountain View
Parking
Restaurant
TV
Theme
Ecotourism
Families
Mountains
Traveler Type
Families
Single
Couple
Group
Details of prices
Lowest price $ 16
TYPE AA WITH A / C: remodeled rooms that have cable TV, air conditioning, hot shower, coffee maker.

· Individual: $35 i.v.i

· Doble: $52 i.v.i

· Triple: $64 i.v.i

· Cuádruple: $80 i.v.i

TYPE AA: remodeled rooms that have cable TV, fan, hot shower, coffee maker.

· Individual: $28 i.v.i

· Doble: $42 i.v.i

· Triple: $52 i.v.i

· Cuádruple: $62 i.v.i

TYPE A: These rooms have not been remodeled yet but are in excellent condition. They have cable TV, fan, bathroom with hot water.

· Individual: $23 i.v.i

· Doble: $36 i.v.i

· Triple: $46 i.v.i

· Cuádruple: $60 i.v.i

ECONOMIC ROOMS: They have cable TV, excellent shared bathroom in front of the room.

· Individual: $16 i.v.i

· Doble: $24 i.v.i
Map
Book
Activities in the area
Conservation Areas