Ecolodge in Dominical Beach South Pacific Costa Rica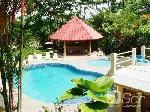 Natuga Ecolodge-Villas and Natural Reserve Mountain Hotel-Villas located just 10 minutes from Playa Dominical, excellent access.
Natuga EcoLodge-Villas and Natural Reserve
Is the place to relax and enjoy the natural treasures of Costa Rica's Southern Pacific zone. In a friendly Costa Rican atmosphere with a vision of sustainable tourism, we will make your stay unforgettable. Enjoy exciting and fun activities such as hiking in the rain forest, horseback riding, whale and dolphin watching in the Parque Marino Ballena, canopy tours, mountain biking, bird watching, waterfalls and Caño Island, among others.
(0) Comments
Add Comment

Close
Be the first to comment on this listing!
Advertising
Gallery
Click the photos to enlarge
Features
Features
Car Rental
Bar
Conference Center
Kitchen
Hot Water
Internet
Private garden
Laundry
Parking
Pool
Refrigerator
Restaurant
Vegetarian-restaurant
Phone
Fan
Mountain View
Theme
Honeymoon
Adventure
Families
Hiking
Bird Watching
Ecotourism
Mountains
Traveler Type
Families
Couple
Group
Details of prices
Lowest price $ 82
Villas El Limón y La Montaña 2012 Rates

Season
Occupation
Rate
Rate with Taxes

Green
Season

1 Person
72
81.36
2 People
72
81.36
3 People
92
103.96
4 People
112
126.56

High
Season

1 Person
72
81.36
2 People
92
103.96
3 People
112
126.56
4 People
132
149.16

Peak
Season

1 Person
92
103.96
2 People
112
126.56
3 People
132
149.16
4 People
152
171.76

- Breakfast are included in all rates
- Rates are expresed in US dollars
Villas El Gran Ceibo 2012 Rates

Season
Occupation
Rate
Rate with Taxes

Green
Season

1 Person
112
126.56
2 People
112
126.56
3 People
132
149.16
4 People
152
171.76

High
Season

1 Person
112
126.56
2 People
132
149.16
3 People
152
171.76
4 People
172
194.36

Peak
Season

1 Person
132
149.16
2 People
152
171.76
3 People
172
194.36
4 People
192
216.96

- Breakfast are included in all rates
- Rates are expresed in US dollars
Map
Book
Activities in the area
Conservation Areas