Costa Rica Hotels, Chirripo National Park, Tours, Hiking, Talamanca Nature Reserve.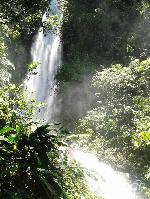 The ideal place to enjoy and rest on the way to Chirripó National Park.We are more than just a Hotel. "ASK FOR INFORMATION ABOUT TICKETS TO CHIRRIPO NATIONAL PARK"
WELCOME TO THE CLOUD FOREST!
Come See The Ten Fabulous Waterfalls of Talamanca.
Over 4,000 acres of tropical forest in the mountains, at the foot of Central America's highest mountain, Mt.Chirripo, and the Chirripo National Park, Costa Rica.
Miles of paths, guided tours to Waterfalls (10), orchids, bromeliads, and ageless forest.
For people who like to hike, we have different trails that take you to each of our Ten Waterfalls. You will see an extraordinary variety of flora.
WE ALSO HAVE VERY COMFORTABLE ACCOMODATIONS; CABINS, TOURS, INTERNET,AND EXCELLENT RESTAURANT AND BAR.
Talamanca Nature Reserve awaits you!!
Call for your reservation 001(506)2742-5080, or contact us at:
www.talamancareserve.com (web site)
info@talamancareserve.com (email)
(0) Comments
Add Comment

Close
Be the first to comment on this listing!
Advertising
Gallery
Click the photos to enlarge
Features
Features
Pets Friendly
Bar
Hot Water
Internet
Private garden
Laundry
Parking
Restaurant
Vegetarian-restaurant
TV
Phone
Mountain View
Other
Theme
Honeymoon
Adventure
Luxury
Families
Hiking
Bird Watching
Ecotourism
Mountains
Other
Traveler Type
Families
Single
Couple
Group
Budget
Standard
Economic
Luxury
Details of prices
Lowest price $ 45
"Ask for information about tickets to Chirripo National Park"
Our rates are:
$ 45.00 $79.00 $89.00
ALL RATES INCLUDE, WIRELESS INTERNET, ACCESS OUR PRIVATE RESERVE AND TV IN THE RESTAURANT.
Map
Book
Activities in the area
Conservation Areas