Krisa Curtains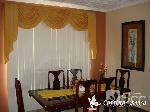 Cortinas KRISA offers home and budget counseling at no cost.We are interior designers. Come to us and we will gladly assist.
Cortinas KRISA is a Costa Rican company with over 18 years of experience in national and international markets, whose goal is to provide customer satisfaction through our consulting and implementation services in the field of interior design.
Our company is dedicated to selling curtains, blinds, valances, blankets, sheets, duvets, decorative pillows, decorative curtain tracks, folding doors, laminate flooring, PVC laminated ceiling, online hardware store, decorative components, closets, etc.. We also provide consultancy and maintenance of our products. We have a great team that helps us cover the full branch of the manufacture and installation of decorative attachments.
We have our own manufacturing workshop where we guarantee to meet the highest standards of quality in all our products.
We have national and international fabrics to suit all tastes and market needs.Our quality stands out, so we are the best option throughout the south and across the country.
We offer:
Home visits and Budgets
Installation and re-installation
Curtains and blinds
Washing and aplanchado
Personal guidance.
Besides various products:
* Curtains
* Blinds
* Outdoor Awnings
* Motorization
* Finishes for construction
* Carpets
* Decorative Rails
* Quilts
(0) Comments
Add Comment

Close
Be the first to comment on this listing!
Advertising
Gallery
Click the photos to enlarge
Features
Map