Walking Tours Los Pinos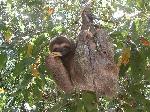 Nightlife in the jungle! Here you can see the other side of the rainforest, looking creatures that are not seen during the day.
Wildlife Refuge Rancho La Merced has a number of walking trails
through primary and secondary forest and plains giving the opportunity to observe the flora
Experience the behavior of insects, birds, mammals and reptiles in their natural habitat and observe
the wide variety of tropical plants.
Some of the trails are located in the hills of the reserve and Morete River Basin.
This is an excellent opportunity for wildlife observation, as there is plenty of space
The walk covers areas where howler monkeys are always heard in the morning.
Tour Estimated time: 2-3 hours.
(0) Comments
Add Comment

Close
Be the first to comment on this listing!
Advertising
Gallery
Click the photos to enlarge
Features
Theme
Adventure
Bird Watching
Families
Hiking
Traveler Type
Families
Single
Details of prices
Lowest price $ 25
Price:
$ 25 per person.
Map
Book