Trip to La Virgen and la Cueva Waterfalls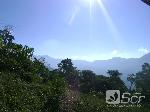 Have a meeting in harmony with nature, get out of routine and enjoy the activities offered by this wonderfull waterfall tour.
Waterfall Package and Tour
Activities:
Hiking trails, enjoying the flora and fauna.
Vines of large trees.
You can also swin in the cool waters of the river.
The most suitable time is from 8 am to 12 pm.
We will offer snacks along the way.
Recommendations:
Mountain shoes.
Costume comfortable.
Repellent.
The tour is supervised by an specialized guide, and the owner.
(0) Comments
Add Comment

Close
Be the first to comment on this listing!
Advertising
Gallery
Click the photos to enlarge
Features
Theme
Aquatic
Adventure
Bird Watching
Ecotourism
Families
Hiking
Mountains
Traveler Type
Families
Single
Couple
Group
Details of prices
Lowest price $ 50
Special prices for:
Map
Book