Hardware Coopemadereros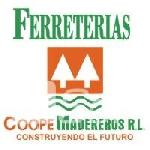 Coopemadereros R.L. Comprehensive solutions have three hardware stores and office building materials, complementary to the timber industry.
Our office hardware and building materials offer different solutions to their needs in constructiones and general repairs, which in a complementary way with the timber industry can offer customers a comprehensive solution.
We have a technology platform suitable for the operations of the company, which provides customer service quick and efficient.
· Innovation and Security
· Equip yourself with your best tools
· All color for your home, or decoration.
· Electrical Accessories
Building Materials
painting
ceramics
Faucets and Plumbing
Sanitary Ware
Power Tools
doors
aggregates
Locks
Woodworking Tools
Electrical Accessories
irons
PVC Pipe and Fittings
Hardware and Building Materials for sale (located in San Isidro de El General and Uvita de Osa).
· Shipping.
· Store auto-parts truck.
· Hardware and Building Materials Sales
Visit us at our offices and facilities located in Villa Ligia, Daniel Flores, Perez Zeledon, compared Residencial El Valle, on the Interamerican Highway.
(0) Comments
Add Comment

Close
Be the first to comment on this listing!
Advertising
Gallery
Click the photos to enlarge
Features
Map