Bella Vista Gym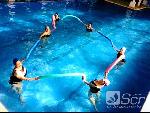 Gym and pool at your service!
The Gym Bella Vista is located in San Isidro del General, Evans Quarter (formerly district Red Cross), 200 m south, 125 west of the main offices of Coopealianza. It has a wonderful view of the Valle del General.
It offers:
- Swimming lessons for children and adults
- Free time Pool: schedules are available that people can use the pool individually, as needed, either to swim or do some kind of exercise. The pool is covered with water heated with solar panels and It has a ramp for easy access.
-Classes Adult swim: at times 8 am, 6 pm and 7 pm.
- Swimming lessons for children: Hours by age and level. Friday afternoon and Saturday morning.
- Weights and cardio room: with cardio equipment and against resistance. We have certified instructor.
Functional Training: Group classes which aim to improve all the capabilities available to the body: power, endurance, coordination, balance, strength, among others.
In addition you are offered the following services:
-Physical Therapy: hidrotherapy for the elderly, rehabilitation of road accidents, arthritis, back pain (scoliosis), among other therapy.
-Nutritionist: Customized plans are designed according to the objectives of each person, nutrition education for children, adults and seniors. Control of chronic diseases. Specialized plans for athletes.
-Nutritional shakes
-Shop: Casual clothing,
Hours: Monday through Friday 5:00 a.m. to 8:30 pm, Saturdays from 5 am to 2 pm
Children from 6 months to 15 years: Saturdays according to age.
27713500 phone mail gimnasiobellavista@gmail.com
Facebook: Gym Bella Vista
(0) Comments
Add Comment

Close
Be the first to comment on this listing!
Advertising
Gallery
Click the photos to enlarge
Features
Map