SUSHI YOUISUI NASEME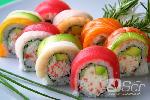 We make all kinds of Japanese sushi and make it to your home
We make all kinds of Japanese sushi, if you like to see our menu please contact us using the form to the right and we will gladly send you, we also offer the option to have your own pc sushi chef at your home or another location, for: lunch, dinner or any other special occasion (minimum of 3 people) and the price will vary according to your location.
NIGIRI SUSHI
CRAB STICK (palillos de cangrejo) $ 2
TUNA (atún) $3
SALMON $3
SHRIMP (camarón) $3
UNAGI (EeL or anguila) $2
OCTUPUS (pulpo) $2
WHITE FISH (fishingdo blanco) $2
SURF CLAM-MIXED FISH (mixto de fishingdo) $2
(Ask for available fish)
ROLLS (rollos)
1-Philadelphia: Salmon, cream cheese, avocado & cucumber (salmon, queso crema, aguacate y pepino) $10
2-CRUNCHY DRAGON : sushi rice, crab, cucumber, avocado, seaweed, spicy tuna, spicy sauce, mayonnaise, tempura crunchy, black sesame seeds.(arroz,cangrejo,pepino,aguacate,alga,atun picante, salsa picante,mayonesa,tempura crujiente y ajonjoli negro) $12
3-GODZILLA: fried shrimp inside, avocado and Eel on top (camarón crujiente por dentro, aguacate y anguila por encima) $12
4-CATERPILLAR: Unagi ir Eel & cucumber wrapped w/avocado (anguila por dentro y envuelto con aguacate) $8
5-NEW YORK: crunchy shrimp and avocado inside with sesame on top (camarón crujiente y aguacate por dentro y ajonjolí encima) $10
6-Boston Roll: crab & cucumber inside (cangrejo y pepino por dentro) $8
7-CA Deluxe: California roll with Unagi on top (Eel) (California con anguila crujiente por encima) $10
8-California Roll: crab & avocado (cangrejo y aguacate) $8
9-A's Roll: soft Shell crab, avocado, cucumber, crab meat topped with Unagi or Eel with BBQ(suaves capas de cangrejo, aguacate, pepino, cubierto con cangrejo y anguila BBQ) $10
10-Alaska Roll: grilled Salmon skin BBQ & vegetables (piel de salmón BBQ cocinada por encima y vegetales mixtos por dentro) $ 12
11-Headland Roll: Tuna and avocado with cheese cream inside (atún y aguacate por dentro con queso crema) $8
12-FISH TRUCK: Salmon inside with avocado topped with tuna or other available fish and sesame & Eel sauce (salmón por dentro con aguacate y atún u otro fishingdo disponible por encima con ajonjolí y salsa de anguila) $13
13-J&K ESPECIAL: three diferents kind of fish inside the roll with avocado on top and sesame with ground carrot (tres tipos de fishingdo por dentro cubierto de aguacate con ajonjolí y zanahoria molida) $15
14-TIGER ROLL: Crunchy shrimp with lettuce , mayonnaise, ground carrot and avocado, all inside the roll with outside the roll (camaron crujiente con lechuga, mayonesa, zanahoria molida y aguacate dentro Del roll con alga por fuera) $10
15- Mixed sushi for 3 -4 people $60(35 pieces)
Sushi mixto para 3-4 personas $60 (35 rollos)
Japanes beers (asahi or sapporo)
Cervezas japonesas (asahi o sapporo)
sake (rice liqueur) $40 per bottle
sake (licor de arroz) $40 la botella
(Additional´s ingredients differ in price)
(Shipping prices vary )
You can have your own sushi chef in your house and you want to order fresh for your special occasions, for details please use the contact form.
Thank you
(0) Comments
Add Comment

Close
Be the first to comment on this listing!
Advertising
Gallery
Click the photos to enlarge
Features
Map