Quesos el Oriente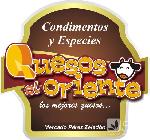 Cheese the East, an option for your enjoyment, flavors, spices and exquisite cheeses.
Our company is engaged in the sale of dairy products (cheese to melt, to fry, boronoso cheese, grated cheese such as Parmesan, mature cheese, goat cheese, homemade custard, sour milk)
We have more than 130 kinds of species, condiments and toppings.
Seeds mixed gummies prunes, cranberries, raisins, figs, candied fruits, caramels, chocolate, dough, flour, cornstarch, lime.
Preparations homemade smoothies: cream, horchata, pinol, pinolillo. Fresh: flaxseed, chan, Jamaica flower. Drinks made: Aloe, mixed fruit, or fructose-sweetened esplenda.
Cafe import and bundles of sweet sauces and other gourmet products.
Cajeta of figs with fruit ..
Plums, raisins, cranberries, candied fruit, figs, baking powder, walnuts, almonds, macadamia, cashew, pistachios, brown sugar .. Products of the highest quality!
Properties of cardamom
1. Cardamom removes excess stomach acid.
2. Cardamom is a stimulant for our digestive system. Improving digestion.
3. Cardamom prevent flatulence.
SPECIES
OREGANO, widely used in cooking meditarránea
CHICKPEAS, legumes important culinary and nutritional qualities.
LENTILS
CHAN
ANIS, Its seeds are used as flavoring in baking and pastry, in the production of liqueurs (anise, anisette) as well as in some curries and seafood dishes.
Cloves are used whole or ground, but as they are extremely strong, they are used sparingly.
Black pepper, known for its use in various dishes.
JAMAICA
DILL
PLUMS
candied fruit
SESAME
FIGS
candied fruit
(0) Comments
Add Comment

Close
Be the first to comment on this listing!
Advertising
Gallery
Click the photos to enlarge
Features
Map