Conservas del Sur GESA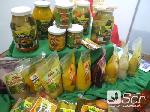 Conservas (preserves) del Sur is a micro company dedicated to the development and marketing of premium quality jams low-calorie sauces and pickles based on fresh vegetables, pulps, syrups and jams.
We are located at the Ingenio in Peñas Blancas and, as Johanna Arias said, for several years have a fixed market for the products.

The micro and small enterprises is undoubtedly an important source of local labor, one such case is found in Peñas Blancas.


"Conservas del Sur" employs 28 employees at the plant, and 10 in the field, and we produce the cucumber, cauliflower and chilli".

Our products:
Pulps of pineapple, blackberry, tamarind, cas, mango.

Pickles in vinegar and mustard.
Chileras.
Sauces, Tomato, vegetales.chunki.
Jams pineapple, mango, soursop, blackberry,
Cola syrup, coconut, gum.

Our Brands:
Calipso.

Doña Chavela.

Don Chayo.

Commitment:
Meet quality goals in all areas always seeking a balance between the social and the economic.

Mission:
Be a company of artisans, processing a product with high standards of safety and wholesomeness keeping them high quality food that bring the field with a high social and environmental sense.

Objective:
Processing some fruits and vegetables produced in the city of Santa Ana, and turn them into products of high quality and safety.

Values:
Responsibility.
Respato.
Loyalty.
Work.

(0) Comments
Add Comment

Close
Be the first to comment on this listing!
Advertising
Gallery
Click the photos to enlarge
Features
Map