Blue flavors and spices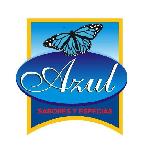 That rich and that easy ..! Do not fuss over your kitchen, uncover, add and enjoy .. The work already done that for you Blue with flavors and spices.!!
We are a group of women entrepreneurs who decided to organize to create our own line of food commodities.

Our company is an organization that is based on the production and marketing of quality products processed by hand based vegetalss, fruits, vinegars and oils.

We currently produce five product categories:
Premium Quality Jams

Sauces for white and red meats

Preserved in Olive Oil

Spicy Sour pickles

Garlic Pasta

Fresh fruits are processed and packaged to the highest standards of hygiene and quality.
The incomparable BLUE jams are made ​​without added coloring or flavoring.
Take your table and feel the premium quality quiet naturally consume low calorie fruit.

Eat rich and healthy without remorse!!
Legitimate ragweed on his desk: peanut butter, blackberry jam, papaya-pineapple jam, strawberry jam and jam-PINEAPPLE MANGO.

We have three different presentations, bottle of 250 grams, 500 grams bottle keychain Doy Pack of 500 grams.

BLUE flavors and spices, invites you to meet your allies in the kitchen such as:

* GRAVIES, BLUE.

* GARLICPASTE, BLUE.

* PRESERVED IN OLIVE OIL, BLUE.

* PRESERVED IN OIL SOUR SPICY, BLUE.

* FRESH FRUIT JAMS, BLUE.
(0) Comments
Add Comment

Close
Be the first to comment on this listing!
Advertising
Gallery
Click the photos to enlarge
Features
Map