FLOWERS BONNYSU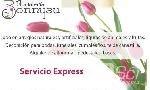 BONNYSU FLOWERS ALL IN NATURAL AND ARTIFICIAL FLOWERS, GLASS AND EVENTS, HOLIDAY CARPET, pedestals.
All in floral arrangements (natural and artificial) for all occasions.
Animal figures including fruits and arrangements.
Wedding Decoration
Birthday Decoration
Centerpieces
You basket
Carpet alkyls
Pedestals and bases
Funerals.
Hours Monday through Saturday from 8:00 am to 6:00 pm
(0) Comments
Add Comment

Close
Be the first to comment on this listing!
Advertising
Gallery
Click the photos to enlarge
Features
Map