Chocolates and Sweets Course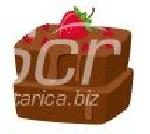 In this course, we want to show the wonderful world of chocolate. We show you step by step how you can make your own chocolates
In this course, we want to show the wonderful world of chocolate.
We show you step by step how you can make your own handmade chocolates.
Course Schedule
Tuesday June 7 8:00 a.m.
Monday June 13th 5pm
Wednesday June 15 8:00 a.m. and 12m
Course Fee
Private ₵ 5000
CTP students ₵ 2000 San Isidro
Free Students of Tourism
Includes Cookbook
Each student must provide the course materials, the list will be delivered after cancellation of registration.
The registration must be at least 3 days prior to the time chosen to ensure the quota
Limited Capacity
More information on the Production Unit. Department of Tourism. CTP San Isidro.
Prof. Aliria Rodríguez González
capacitacionyeventos@ctpsanisidro.ed.cr
83722365-27710910 etx. 108
Other Courses of June
Cocktails Basic Techniques.
NOTE: This course will be in Spanish language.
(0) Comments
Add Comment

Close
Be the first to comment on this listing!
Advertising
Gallery
Click the photos to enlarge
Features
Map