Electrician Costa Rica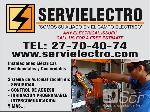 We are a serious and professional company and all our technicians are well trained in the electric field company. Visit http://www.servielectro.com/ Residential and Commercial electrical installations. Automatization for your home or business.
Our services include:
Residential and Commercial Electrical installations (Improvement, Renewal, Inspections, etc).
Installation of security alarm systems.
Solar water Heaters
Installation of smart irrigation systems.
installation of gate openers.
Visit us at http://www.servielectro.com/
(0) Comments
Add Comment

Close
Be the first to comment on this listing!
Advertising
Gallery
Click the photos to enlarge
Features
Map