ELECTRO TELEFONICA J.A.S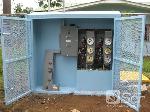 ofrezco, cableado estructurado,redes de computo,instalaciones eléctricas, averí­as telefonistas, averí­as eléctricas, mantenimiento.
ELECTRO Telfonica J.A.S
It offers:
Computer networks:
Cabledo design and development of network computing.
Assistance breakdowns.
Electica installation.
Applications to residential, commercial.
Advisors, pesupuestos.
Experience in facilities at Schools.
Channel Install of estuctructura for telephone lines.
(0) Comments
Add Comment

Close
Be the first to comment on this listing!
Advertising
Gallery
Click the photos to enlarge
Features
Map