Manufactures Precast Morales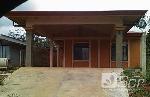 We have over 40 years experience in the manufacture of concrete products. Knowledge, accountability and good service our experts will contact us for advise taste!
Your project is very important!
Precast Morales puts his deposition products are made in reinforced concrete armor and high strength concrete.
With high standard of quality, strength and durability for this we use the best raw material:
· High resistance Cement

· Fillers

· Broken Stone

· Deformed rods for our columns

· Armor flat electro welded for our tiles
Our products have a manufacturing process in which we ensure that reach and / or exceed the standards for quality and durability that can compete with international markets. Manufactured in steel molds and vibrated.
· Manufacture prefabricated columns in various heights and widths.

· Tiles manufactured in different lengths and designs.

· Special Columns prefabricated two-storey apartments.

· Box breakers.

· Columns of type power meter.

· Fenceposts reinforced.
For further details refer to our catalogs of homes and columns.
(0) Comments
Add Comment

Close
Be the first to comment on this listing!
Advertising
Gallery
Click the photos to enlarge
Features
Map