Factory prefabricated cells in Perez Zeledon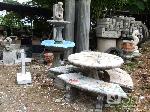 All in precast concrete manufacturing pricing. variety of models in columns, balustrades, pinnacles, planters, handrails, tables, benches, etc.
It guarantees excellent finishes, we're known for meet your needs and budget.
Undertake projects in the shortest time possible with the best quality available in the market adjusting to the possibilities of each of our clients.
construction resulting in reduced costs to the customer.

Fabrica mustache, is engaged in concrete construction:

Bases

Desserts.

Pavers.

Block hornamental.

Cruces.

Household batteries.

Sources.

Game tables seated.

Tanks.

Horn.



Stack miniature red one punt 50cms to-11
We present our extensive line of batteries. This is the traditional red color stack, made of concrete strength and durability, equipped with 1 tank and 1 punt left, is compact, has depth in the tank. Ideal for homes, sodas, battery rooms, restaurants, and more.

Game garden
has provided an elegant round table with strong base, Made in high strength concrete for long life and give them fine carvings and elegant decorations. Ideal for gardens, parks, recreational areas, among others.

balusters:
Installation manufacture of bases for facilitating the accommodation baluster uniform and finishing with figures in the base of the balustrade.

Our line of prefabricated urban furniture has a great variety of designs and styles for your choice, but make special prefabricated under design as needed.
Distribute any part of the country
(0) Comments
Add Comment

Close
Be the first to comment on this listing!
Advertising
Gallery
Click the photos to enlarge
Features
Map