Clinica ASEMBIS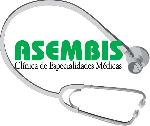 We are a social enterprise that provides health services to the entire population, with fair price, high technology and human capital committed to continuous improvement and quality.
MEDICAL SPECIALTIES
ASEMBIS is best in private healthcare. We are a team of experienced professionals and human quality, you want to serve by offering the most affordable market prices.
our Services
Specialties of Sight
optometry
ophthalmology
Vision Surgery
Cataract Surgery
Retina Surgery
Chalazion Surgery
Strabismus Surgery
Surgery to stop wearing glasses (refractive)
Pterygium surgery or Plasty
Ear Specialties
General medicine
Clinical Laboratory
Dentistry and Orthodontics
dentistry
Oral Radiology Diagnostic Center
(0) Comments
Add Comment

Close
Be the first to comment on this listing!
Advertising
Gallery
Click the photos to enlarge
Features
Map