Hyunday Galloper 2002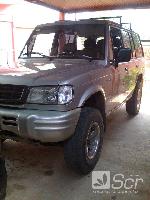 Excellent Hyundai Galloper for sale. Diesel, 2002 model, 7 passenger.
It has never been beaten, intact cans, tires, battery, motor, body in excellent condition. All the seats have covers to protect upholstery which is like new. The whole floor is covered with vinyl to protect the carpets which are like new. AWD very strong and in excellent condition. I want to sell because I need some money for construction.
(0) Comments
Add Comment

Close
Be the first to comment on this listing!
Advertising
Gallery
Click the photos to enlarge
Features
Map