Bogantes Workshop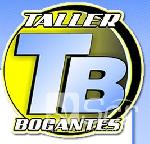 Workshop Bogantes an industrial electrical services company in the southern zone of Costa Rica, quality and value
With a personalized quality service, specialists in the housing sector, business, industrial, and other
Our success is due to a consolidated team, enabling us to compete and still be efficient.
Our services:
· Maintenance, Repair, Sales and Installation Air Conditioner
· Installation, sales and service Water Filtration
· Coil Motors Sale
· Sales and installation of pumping Yesstemas
· Repair Tools
· Structured Wiring Installation
Our Products
Among the range of products available to our company available include:
* Water Pumps: Submersible and stationary of different capacities and specifications.
* Boxes boot.
* Tank hydropneumatic: fiberglass and metal.
* Electric motors: caballajes different.
* Spare parts for electric motors: Platinum, capacitor start and work, mechanical seals, bearings, centrifugal.
* Control Panels
* Line Automation: contact you, handles, indicator lights, thermal relays.
* Cool Air Conditioners Carrier and tek.
(0) Comments
Add Comment

Close
Be the first to comment on this listing!
Advertising
Gallery
Click the photos to enlarge
Features
Map