Canopy Los Pinos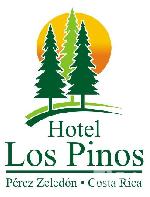 For those who love adventure and adrenaline! Enjoy this tour in the Pines Hotel.
This tour allows us to move through the canopy of the cloud forest at an incredible rate, as our canopy is located at an altitude of 1600 m, and can see the magnificent Valley General and have opportunities to see birds .
The tour starts at the Mirador Valle del General always accompanied by two guides at least once placed teams in each person, we left school the cable, this will give a short talk on how each person should move in system "canopy", and concluded that, moved by a bridge to the platform # 1 in this 55 meter cable must travel to reach the platform # 2, and in it the following cable is 80 meters but faster than the first, once we got to the platform 3, in this section we make a small canopy walk 30 meters to reach the platform 4, with the cable 3 is 120 meters and where we find the greatest height the canopy tour, the cable number 4 is the longest 140 meters and the fastest turn of the trail, the sections 5 and 6 respectively are short one of them "5" is 80 meters and the last 60 meters in the platform 7 we find at a height of 25 meters and this is where we practice Rapel or freefall.
After the tour we walk 200 meters to get to our starting point. The total travel of the canopy is approximately 1 hour.
General Recommendations Canopy Tour:
• Tor T-short style blouse.
• Tennis shoes or closed "preferably.
Our teams have high quality standards also General Valley Canopy has trained staff that will make the tour very safe and fun for your family and friends.
Our hours are Monday through Friday by reservation only, Saturday and Sunday from 8 am - 3 pm
(0) Comments
Add Comment

Close
Be the first to comment on this listing!
Advertising
Gallery
Click the photos to enlarge
Features
Theme
Adventure
Bird Watching
Traveler Type
Families
Single
Couple
Group
Map
Book