Mountain Cabins Bosque del Tolomuco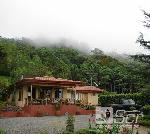 Tolomuco Forest is located in a natural environment, which offers lodging in a quiet environment where you will enjoy a sanctuary for many species of birds.
Come visit and relax in the pool, read by the gardens, sit by the fireplace on cold nights and enjoy some of the wonderful sights and sounds around us.
A quiet place located in the heart of the Talamanca Mountains in the southeast Pacific of Costa Rica.
Surrounded by gardens and natural habitat, where birds can be seen all day, our hostel is the ideal place to rest for a few days, a week or your entire vacation. With access to national parks, hiking trails and tours. Tolomuco Forest is your best choice.
Our forest offers peace of mind for bird watching.
We have many well-maintained trails that allow your walk is pleasant and you can see birds with tanquilidad as: Black Guan (Chamaepetes unicolor), Bobo cononiazul (Momotus momota) Candelita pechinegra (Myioburus miniatus), Golden Tanager (Tangara icterocephala) unusual addition Redwing Parakeet (Touit costaricensis), flying on the property most of the time.
Lodging
Trogon cabin was built the first cabin. This together with the main house and is soundproof. It offers more privacy because the entrance is independent and visitors do not have to walk through the main house. It has a double bed and a single bed.
This cabin has a bathroom with hot water. The grounds around the cabin are very beautiful and well maintained and the pool is just steps away.
Parakeet Deluxe Cab offers a patio and private garden overlooking Chirripó. It has a lovely dining area, kitchen and bedrooms.
It is fully equipped with linens, dishes, pots, pans, coffee maker, stove and refrigerator.
It has a queen size bed. Perekeet Deluxe Cabin offers a private bathroom with hot water and pool access.
Hummingbird Cabin is a small cabin and comfortable downstream of the main property, which offers extreme privacy. It has 2 bedrooms with double beds, kitchen and a shared bathroom with hot water.
The main house is 100 meters from the cabin.
The Mot Mot is attached to the cab Parakeet, however, completely independent with private bathroom, shower and hot water. It has a double bed, living room with sofa bed, terrace, overlooking the gardens and Chirripó, close access to the pool.
The Toucanet is a small cabin with a double bed, hot shower. It has an exterior corridor overlooking the Cerro Chirripñ, gardens and close access to the pool. This cabin is ideal for a single person, however, can be used for two people.
Come and experience the freshness of the mountains of the Cloud Forest, located 14 km north of San Isidro de El General,
(0) Comments
Add Comment

Close
Be the first to comment on this listing!
Advertising
Gallery
Click the photos to enlarge
Features
Features
Kitchen
Hot Water
Private garden
Parking
Pool
Refrigerator
Mountain View
Theme
Honeymoon
Adventure
Families
Hiking
Bird Watching
Ecotourism
Traveler Type
Families
Single
Couple
Group
Details of prices
Lowest price $ 75
Trogon Cabin
Double occupancy US$65.00, extra person US$25.00
Tax Included
Hummingbird Cabin
Double occupancy US$75.00, extra person US$25.00
Tax Included
Parakeet Cabin
Fully Equipped Deluxe Kitchenette
Double occupancy US$75.00
no extra person except child under 5 - will provide crib or cot.
Tax Included
Toucanet Cabin
Double occupancy US$65.00
Tax Included
MotMot Cabin
Double occupancy US$70.00, extra person US$25.00
Tax Included
Map
Book