Lodging in Perez Zeledon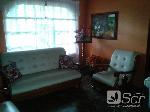 Lodging Doña Eva located in Perez Zeledon. We have comfortable, safe and convenient rooms if required by days, weeks or months
Welcome to Hospedaje doña Eva.
This wonderful home has rooms for up to 4 people each have satellite TV, fan, double bed and single beds, sheets, bedspreads and blankets clean and soft, comfortable pillows, access to toilet and bath.
You can also enjoy your living room while watching TV, read your book or maintain a pleasant conversation.
In the courtyards and gardens, all the freshness and greenery can be enjoyed from morning walking through its wide corridors.
The location is great. Close to supermarkets, shops, pharmacies, restaurants in Villa Ligia, 5 minutes way to Buenos Aires is Plaza Monte General and10 minutes way to San Jose downtown San Isidro.
Despite being so close to shops, the boarding house Doña Eva is located privileged on a spacious property away from bullisio, safe and surrounded by nature.
You can stay here for a day or if you are a student or a salesman required to stay for a few weeks or months or
must be some reason for some people in our season is the right place to stay we can accommodate large groups and if you need laundry service and / or food he is given,too.
Upon arrival you will be greeted by Mrs. Eva and her family. From that moment will feel the warm and friendly atmosphere that there is transmitted,
insurance is better than at home will feel!!
Undoubtedly Hospedaje Dona Eva is your best choice. contact us
(0) Comments
Add Comment

Close
Be the first to comment on this listing!
Advertising
Gallery
Click the photos to enlarge
Features
Features
Cable
Internet
Private garden
Laundry
Parking
TV
Fan
Mountain View
Traveler Type
Families
Couple
Group
Details of prices
Lowest price $ 15
Tenemos cuartos desde $15 a $25
Map
Book