Beauty center for children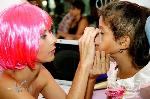 A place for your children is that Nexus Kits counted in Perez Zeledon, We offer a hairdresser in a very nice, he will bring his own, from babies.
It offers more aesthetic care for the house pampered with personal attention visit us we are located in Santa Ana, the Betos Mall, Local No. 4.
Nexus Kits offers everything for the children are having a strong and healthy hair. It's a beauty center for babies, children and young teens pre-teens, based on a concept of family care.
Go to haircuts to the children of the house becomes a pleasant and entertaining.
And most toddlers, have an area designed for them. Come and join us.
Manicure and Pedicure · special children or decoration.
(0) Comments
Add Comment

Close
Be the first to comment on this listing!
Advertising
Gallery
Click the photos to enlarge
Features
Map