Bauty Salon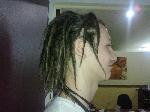 ¿Whould you like change your look?
Beauty Salon Renacer offers the best servicos in dyes, modern cuts, hair, all kinds of braids, dreads rasta, color correction, high lights, low lights, hair treatments: fall, dandruff and grease, and chocolate keratin hair extensions.
(0) Comments
Add Comment

Close
Be the first to comment on this listing!
Advertising
Gallery
Click the photos to enlarge
Features
Map