ADVERTISING in DIGITAL SCREENS IN MONTE PLAZA GENERAL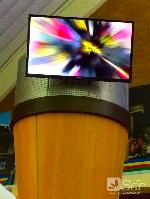 Digital advertising on screens in the "food court" Plaza Monte General. Still images or video spots of 15-60 seconds. 11 hours a day 365 days a year. benefits: The lowest cost in the market. Yestio highly commercial. Constant exposure to large audience.
AVM advertising, can help you turn your ideas into reality. Use our services to develop the identity of your company and stand out from the competition. Our mission is to be an original and creative design service affordable to small and large businesses in the south of our country visual communication.
By hiring our services, not only is investing more for your company, you would be ensuring that the identity of your company will have a professional care based on communication and design of creative image on its advertising.
We have years of experience in visual communication, graphic design, video editing and production, development of radio spots (Jingles), announcements on TV, visual communication design, corporate image development, consulting for business marketing strategy, spaces care created for the exhibition of products and services.
Benefits:
- The lowest market cost.
- Highly commercial Yestio.
- Constant exposure to large audience.
- Professional consultancy.
- Better focus.
- Elaborate your video or image.
Benefits and some good things would be:
- Professional Coverage in the way of what and how to expose your service or product in our channels for greater attraction and feedback.
- Constant exposure from 10 am / 9 pm on one of the best focus in Perez Zeledon.
- Your advertising would be exposed to a captive audience, studies show that in cases like conventional advertising is not as attractive as fresh and creative advertising.
- Liability to distribute its advertising, is not only providing information in a massive way, also is providing a drop of knowledge to the receiver, covering his image of responsibility and social sensitivity.
Improved Brand Image and Reputation
"Often consumers are taken towards brands and companies considered to have a good reputation. A company considered socially responsible, can benefit from its reputation among the public, and its reputation among the business community, thereby increasing the company's ability to attract capital and partners. "
(0) Comments
Add Comment

Close
Be the first to comment on this listing!
Advertising
Gallery
Click the photos to enlarge
Features
Map