Casa Vista Olas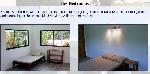 Cabins in Pavones de Golfito Private cabins on the Pavones surf on the edge of the jungle
Pavones is a small remote fishing village on the southwestern tip of Costa Rica's Pacific coast.
It is famous among surfers for its long wave left. Miles of deserted beaches backed by virgin jungle Pavones an attractive destination for surfers and non surfers. Mira Olas offers comfortable cabins with private bath (some with kitchenette) and situated in an orchard backed by rainforest. It is only a five to ten minutes walk to the surf, shops and restaurants or Pavones. Enjoy the panoramic views.
A short path leads you down the narrow valley of the Rio Claro. The crystal clear river forms large, deep pools inviting to dive in - a great way to cool during the hottest hours of the day! View nimble squirrel monkeys cross the river in the upper canopy or can float downstream. The cabins are located in an orchard backed by tropical jungle, just steps from the waves or the downtown. Accommodations include private bathrooms, ceiling fans and hammocks.
(0) Comments
Add Comment

Close
Be the first to comment on this listing!
Advertising
Gallery
Click the photos to enlarge
Features
Features
Air Conditioned
Hot Water
Private garden
Laundry
Refrigerator
Fan
Mountain View
Ocean View
Community Features
Public lighting
School
Public Transportation
Grocery store
Stores
Home Features
kitchen furniture
Microwave
Theme
Honeymoon
Adventure
Bird Watching
Beach
Ecotourism
Mountains
Traveler Type
Families
Single
Couple
Group
Details of prices
Lowest price $ 45
Jungla de lujo:
Rates:
$ 45 / noche para 2 personas, $ 8 para cada pers. $ 45 / night for 2 people, $ 8 for each addl.
$ 240 / semana para 2 personas $240 / week for 2 people.

La Moderna :
Rates:
$ 35 por noche para 2 personas, $ 45 por 3, $35 / night for 2 people, $45 for 3,
$ 190 / semana para 2, $ 240 para 3 personas $190 / week for 2, $240 for 3 people
Map
Book