Surf in Pavones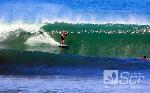 For surfers, Playa Pavones is known worldwide, is considered the number one for having the world's longest wave of his good form and speed.
We are blessed with lots of perfect points like Rio Claro which is the second longest left in the world (see map) and also some good beach breaks all these surrounded by luxurious nature and jungle.
Rio Claro de Pavones is our famous powerful wave, second longest left in the world that you could run for 1000 to 1200 metros; is situated just 5 kilometers south of Punta Saleas Lodge.
Punta Saleas is considered like the second most important wave in the Pavones zone. This is a soft and long wave with fast and hollower sections.
La Onda is one of the most powerful waves of Pavones, fast with a nice wall perfect to rip it hard. For the kite surf season the place is filled with hungry kite surfers, destination Zancudo beach.
Rancho del Mar is the most "elegant" wave because of it's perfection, shape and speed making the most "lovely" wave around
Punta Banco is a beach break, breaking on black rock reef, with multiple peaks, left and right. This break is more powerful because of it's location out of the Golfo Dulce
Zancudo is a sandy beach break up north with poweful and hollow waves, barrels are a speciality of this spot, it also have good wave all year round
Osa Penninsula :
Mata Palo the most beautiful and best right of the osa peninsula with the best barrel sections best at 3/4 high tide
Backwash is really fun, for people who loves srong and fast waves, best at 1/2 high tide
La rendija (Panocha) the biggest frigethening wave where even the "big guys" startled, best at low tide
Pan dulce is as is name says("suave" soft) is a nice shape soft wave, really long with big swell, best half tide
(0) Comments
Add Comment

Close
Be the first to comment on this listing!
Advertising
Gallery
Click the photos to enlarge
Features
Theme
Aquatic
Adventure
Beach
Honeymoon
Map
Book