Kayak en Pavones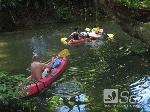 Come and live the experience of Adventure Kayaking and discover the natural grandeur while paddling on the delicate environment while enjoying the beauty of the place.
Kayaking is one of the activities that we propose to the persons that would like to enjoy the tranquility and the beautiful nature surrounding the rivers that heads to the beach.
You will be observing many different birds, monkeys (Howler Monkey, White-throated Capuchin, Squirrel Monkeys) and of course our guides will be the Blue Morpho butteflies
(0) Comments
Add Comment

Close
Be the first to comment on this listing!
Advertising
Gallery
Click the photos to enlarge
Features
Theme
Aquatic
Adventure
Bird Watching
Beach
Ecotourism
Families
Hiking
Honeymoon
Mountains
Traveler Type
Families
Single
Couple
Group
Map
Book
Lodgings in the area
Conservation Areas
Not have Conservation Areas in Pavones De Golfito but we present these other options: