Playa Pavones
Pavones includes a section of more or less 10 miles of beaches that are located in the southeast end of the Golfo Dulce. Being a rocky beach with consistent and large surf, it is an area for experienced surfers. Pavones boasts the 2nd longest left wave on the planet. The best time of year for surfing is between April and October, when the waves are bigger and one can ride on for about 3 minutes!
Here you will find a surfer´s paradise, although the lovers of the ecology recently also have incredible options, like in Tiskita Lodge and others. Because of the lush vegetation in the area, it is possible to observe more than 200 species of birds. There are almost thirty businesses providing lodging to the tourists.
The area has developed a wide variety of outdoor adventures and activities, such as sport fishing, one of the more popular, or sea kayaking, becoming ever more popular with many international fans. Walking in the rain forest, one can observe much wildlife like monkeys, birds, iguanas, anteaters and many others. Horseback riding on the beach or on paths through the forest to view the breathtaking panoramic views is an incredible experience.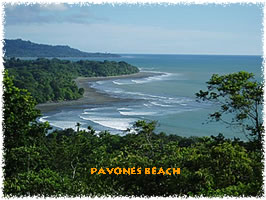 Among the foreign residents, there are many artists that sell their works as wonderful souvenirs of Pavones. If you would like to make some purchases, remember there is not a bank in the area.
There is a yoga study in front of the Beach, open, wonderful, for those who want to take a qualified instructor's classes or simply continue their regimen while on vacation.
The tourist can also enjoy viewing the arts and the crafts of the Guaymi Indians who sell their handmade arts.
Pavones is many things to many people: Adventure, Fun, Nature, Relaxation, and Peace.
Where to Stay and Eat: Lodging prices are very affordable and range between $7 and $50. You can also camp on the beach.
You can stay in a hotel, also you can rent a Vacation Rental House or a cabin in Playa Pavones.
For more information about Playa Pavones Options and Business, please visit the Playa Pavones Portal.
Getting there: it is located on the Osa Peninsula.
After the ferry ride, turn right at each intersection. You can take a Bus in Rancho Burica that leaves at 5am to
Golfito
, this same bus travel from
Golfito
to Rancho Burica at 3 pm. Or from
Golfito
, you can take a taxi for about $50 to
Pavones
.Another option is to travel by boat from
Golfito
, for 4 people it's about $100.
Available services: water, restrooms, cabins, hotels, Vacation Rental houses, electricity, public telephone, and Internet.
What to do: body surfing, boogie boarding, sport fishing, camping, kayaking to explore the rocks, swimming in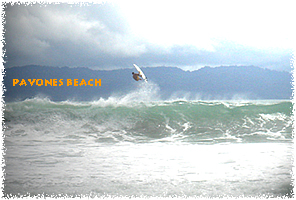 the ocean or river, Tours to the Islands, horseback riding, Tours to the mountain and nearby rivers, bird watching.
Activities that are prohibited: swimming where the lifeguards indicate that it is dangerous, throwing garbage on the beach or in the streets. The maximum speed limit in town is 25 km/h. Driving of motor vehicles is prohibited on the beach (according to law of traffic #7331). Hunting or the abuse or pursuit of wild animals such as garrobos, iguanas, birds, as well as fishing with poison is also prohibited. Bonfires are also restricted as much of the firewood is home to many creatures.
Surfing: Not exactly known for it's consistency, Pavones breaks best on South swells, April-November. Tides: Rideable on all tides, but it tends to close out less on mid-high tides. On low tides the cobblestones become more visible, and the paddle in and out becomes a lesson in the classic rock-walk dance, but at least the rocks are smooth.
You can surf any tide really.

(0) Comments
Add Comment

Close
Be the first to comment on this listing!
Gallery
Click the photos to enlarge
Features
Map