Punta Saleas Lodge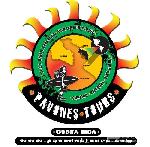 Punta Saleas Lodge, more than a cottage, is also a tourism project, dedicated to adventure sports. Based on "Pavones of Golfito" in the southern Pacific coast, in the "Golfo Dulce" in the "Bay Pavón", where we have been blessed with many world class waves in the world
Punta Saleas Lodge, more than just a lodge, is also a tourism project; dedicated to all adventure sports. Based in "Pavones de Golfito" on the south Pacific coast(see map), nested inside the "Golfo Dulce" on the "bahia pavon" sector, where we are blessed with numerous wolrd class waves, with the most known "Rio Claro de Pavones" ranked second longest left wave in the world. You will be living as close as 200 meters from Punta Saleas (alias Pilón) wave, which is a typical left wave from Pavones, mean you will be able to ride this wave from 500 to 800 meters when the swell is good!!
On this beach (Punta Saleas), you will enjoy from multiple different activities like, surf (for advanced and beginners), kite surf also, appears here in 2006, thanks to our friend Shawn from USA, who find out that Punta Saleas is a good place for Kite Surf depending on the season (december to march with winds speeds up to 17 knots with 12 to 16 meters wide kites), since then, this new sport grew up there as well for tourist as for locals.
You will also be able to have fun while Stand Up Paddle boarding (SUP).
More than that, our philosophy, is to ensure you will live an unforgettable, innovate, exciting and relaxing experience.
Perfect to get you off your daily routine, with stunning landscapes as mountains, beach, best waves of Costa Rica, in a really natural atmosphere surrounded with luxurious jungle.
Whatever you are looking for, adrenalin, adventure, or just peaceful and easy times on the Pavones beaches, this is the place you where want to be.
(1) Comments
Add Comment

Close
max
·
First time
visit the website.
I do not advise. We worked there for a week, and the worker was really cool, but the owner got back, he had just sold the place and the new owner threw us out, although we had talked to the old owner and he had told us to stay as long as we wanted. So we payed the bus from san jose to golfito and back again because the organization was terrible, the old owner (responsible for us being there) did not offer to compensate us, and when we tried dialoguing with him he was very insulting and told us to leave. the place is not clean, there are bats and bat droppings all over the room, the skateboard bowl is full of muck and the concrete is split so water constantly leaks in. there is almost no internet, the sheets are dirty the showers are cold, and the mosquito nets are torn, the worker/cook/reception lights cooking fire with plastic bags. all in all, it's a terrible place to go, the only good thing being the crocodile in the river next to the lodge.
Reply
· November 22, 2013
Advertising
Gallery
Click the photos to enlarge
Features
Features
Mountain View
Ocean View
Restaurant
Theme
Aquatic
Adventure
Beach
Ecotourism
Families
Hiking
Honeymoon
Mountains
Traveler Type
Families
Single
Couple
Group
Map
Book