XX FESTIVAL CULTURAL CURRE YIMBA 2012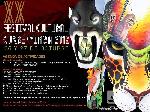 Dear friends. The Organizing Committee of the XX Curré Cultural Festival / Yí­mba 2012 is pleased to communicate the dates of the celebration of this great annual event. As always, it will be a pleasure to have your presence in the development of our activities for this festival.
XX CULTURAL FESTIVAL
CURRÉ/YÍMBA, 2012

It will be dedicated to their traditional food and drink

The activities will be on October 26 and 27 , 2012
By Uriel Rojas R
Upon completion of two decades organizing a cultural festival, the indigenous community of Curré/Yímba, located in Southern Costa Rica, has decided for this year, 2012, to dedicate a tribute to their traditional food and drink, which for many years have been the daily food of their ancestors.
The XX Cultural Festival will be full of educational and recreational activities that will bring joy and entertainment. It will be held at the facilities of the community hall, current headquarters of the High School.
This event has been celebrated since 1992 to enhance the different components of the indigenous culture of the community, belonging to the Boruca ethnic group.
The activities will begin on Friday, October 26 at 1:00 pm until late into the night, continuing on Saturday 27th all day. Various delegations of other indigenous territories will participate.
This activity is organized by Curré`s Association of Indigenous Development, institutions of primary and secondary education, and other local organizations that work together to celebrate another year of the festival.
Every year, each festival chooses a motto that guides the event, in order to strengthen cultural harmony of people and consolidate their collective aspirations. This time, the theme will be: "Feeding our Indigenous Essence". The purpose of this motto is to highlight the importance of the gastronomic heritage in building and strengthening Boruca indigenous culture.
This meeting will be attended by traditional musicians, which will make this date one of joy, reflection and friendship among the participants. The traditional food and drink will be available for all to enjoy. In addition, there will be exhibitions of handicrafts, medicinal plants, old photographs and more.
For Saturday at 10:00 am we will have a talk on various topics of common interest, by several leading representatives of the national indigenous sector. Furthermore, it is laying the foundation stone of future Community Museum of Rey Curré, by representatives of the ADI and the Department of Community Museums of the National Museum of Costa Rica.
These activities will culminate with a series of artistic presentations organized by students of Liceo Yímba Rural CÁJC, host of this XX Cultural Festival.
(0) Comments
Add Comment

Close
Be the first to comment on this listing!
Advertising
Gallery
Click the photos to enlarge
Features
Map