Cafetería and restaurant las Canarias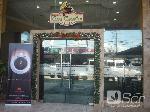 Cafe Canarias offers the most delicious coffees, desserts and food.
Cafe Canarias is located in the shopping area of Panama border, here you can take a rest and enjoy a coffee and pastry, or a dessert.
The area offers three milk desserts, pudding, jelly, ice cream, cakes, and more.
In addition, the feed zone can enjoy rice, meat (chicken, fishingdo, pork, beef) in different preparations, salads, minced and others.
The Café Canarias offers a relaxed and peaceful place to disconnect from the stress of shopping and prepare to make good decisions.
Come and enjoy with your family!
(0) Comments
Add Comment

Close
Be the first to comment on this listing!
Advertising
Gallery
Click the photos to enlarge
Features
Map