Cocodrile tour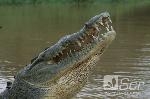 Enjoy the crocodile adventure tour guided by "Crocodile Man"
From a boat, live an amazing experience. You'll see crocodiles close up, at less than a meter away. You'll observe how these impressive animals eat from the hand of the famous "Crocodile Man" (seen in many television shows on nature in the United States or Europe, as well as on the National Geographic channel) and how he attracts these 4 to 5 meter-long animals outside the water and feeds them. Observe the respect created between the animal species.
You will also see many birds such as roseate spoonbills, herons, Caracara falcons, among other interesting aquatic birds.
(0) Comments
Add Comment

Close
Be the first to comment on this listing!
Advertising
Gallery
Click the photos to enlarge
Features
Theme
Adventure
Bird Watching
Ecotourism
Families
Mountains
Map
Book
Lodgings in the area
Conservation Areas
Not have Conservation Areas in Parrita but we present these other options: