Colonial Style Boutique B&B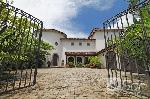 Casa Rancho Inn is a boutique B&B located on 4 acres of lush tropical gardens. The house has 6 bedrooms all inspired by Spanish Colonial architecture. We offer a daily buffet breakfast as well as private meals prepared by our chef. Casa Rancho Inn is located inside the Hacienda Pin
--
(0) Comments
Add Comment

Close
Be the first to comment on this listing!
Advertising
Gallery
Click the photos to enlarge
Features
Features
Cable
Kitchen
Hot Water
Internet
Private garden
Laundry
Parking
Pool
Refrigerator
TV
Community Features
Fitness Center
Pool
Spa
Park
Controlled Access
Home Features
Balcony
Patio or Deck
Dishwasher
kitchen furniture
Microwave
Washer or Dryer
Air Condition
Cable or Satellite TV
Internet Access
Theme
Luxury
Golf-Spa
Families
Bird Watching
Traveler Type
Families
Couple
Group
Number of rooms similar to this one your are adding now
6
Details of prices
Lowest price $ 178
Casa Rancho has a large pool, fully equipped rancho for BBQ's, and every room has a privates bathroom, air conditioning and a flat screen TV. HIBISCUS ROOM - Queen Canopy Bed, courtyard view $178 nightly HOWLER ROOM - King Bed, private balcony $268 nightly TANGO ROOM - King Canopy Bed, private balcony $278 nightly PALM - King Bed & Queen Bed, private screened in balcony $288 nightly SABANERO - Queen Canopy Bed & 2 Single Beds, private screen in patio $325 nightly Prices do not include government taxes.
Map
Book