Detalles, pisos, paintings, acabados para la construcción en Uvita de Osa y alrededores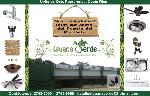 Todo en detalles, paintings y acabados para la construcción...
Detalles Iguana Verde
Nacemos con el fin de poner a su disposición los materiales que dan ese toque final a su proyecto, sin tener que trasladarse hasta San José, ofreciendo variedad y precios competitivos, además rapidez en pedidos especiales.
Pisos cerámicos, Porcelanatos, Pizzara, Piedra Coralina.....
Enchapes y Azulejos
Grifería de baño y de cocina
Fregaderos
Pinturas
Cerraduras
Luminarias
Loza sanitaria
Tinas
Lavamanos
Estamos 150 metros sur oeste del Puente del Río Uvita.
Uvita, Bahía Ballena, Osa, Puntarenas, Costa Rica
(0) Comments
Add Comment

Close
Be the first to comment on this listing!
Advertising
Gallery
Click the photos to enlarge
Features
Map