yoga workshop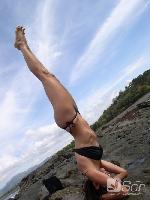 Practicing at Villas Gaia Adding the contact with nature, synergy will be even more powerful and beautiful and will translate into experiences reconnecting with ourselves and the universe.
Hotel Villas Gaia ,14-June 16, 2013
The YogaSense is the experience of accessing the potential of olfactory memory and thus develop deeper practice and sensory. Physiological processes and energy that synergy between yoga practice and enhance essential oils create the ideal space for much more information about each posture or asana.
When we are in practice open to the present and at the same time we access memory through smell, changes occur and rescheduling of experiences, emotions and memories, enabling new understandings, we call that cleaning of this.
The Sense Yoga Workshop takes place in natural environments, allowing contact with our own nature, the internal rhythms, time for contemplation and rest, are a wonderful way to get healthy and facilitate integration while allowing of experiences.
With mariafernanda Larraguivel
Mariafernanda Larraguivel, born in Costa Rica to explore nature learn through movement and the many ways available ... many more than the five we know!
Certified yoga instructor, dancer, permaculture designer, mother of two and co-owner of Aromaflor Organic, local company of essential oils and organic cosmetics for personal care. Creator of yoga experience + Aromatherapy: a flux YogaSense contemporary movements inspired by the philosophy of Anusara, accented with the use of organic essential oils to enhance the practice.
Program
Friday June 14
8:00 a.m. output SJ
10:30 to 11:30 a.m. Check in
Lunch and welcome 12md
1:30 to 2:30 pm Mini Spa and introduction to Yoga Sense
3:00 to 5:00 pm Yoga Sense
6:00 pm Dinner
Saturday June 15
6:00 a.m. I and fruits
6:30 -8 am Yoga Sense
8:30 to 9:30 a.m. Breakfast
10:00 a.m. Visit Playa Ballena
Lunch at the beach and back to the hotel 2pm
4-6pm Yoga Sense
7pm Dinner
Sunday June 16
6:00 a.m. I and fruits
6:30 to 7:30 a.m. Yoga Sense
8:00 -9:00 am Breakfast
9:30 - 12md Visit Playa Tortuga
Lunch 12md
Farewell and departure to SJ
WORKSHOP YogaSENSE,
· 3 DAYS AND TWO NIGHTS OF STAY IN HOTEL VILLAS GAIA, DOUBLE OCCUPANCY
· LUNCH, DINNER ON FRIDAY
· BREAKFAST, LUNCH AND DINNER SATURDAY,
· SUNDAY BREAKFAST AND LUNCH (FOOD)
84,000 colones (U.S. $ 168. -) Per person
Third - fourth person, 20% discount on the package price
OPTIONAL MICROBUS TRANSPORTATION, AND FROM SAN JOSE CENTER
LEAST 8 PEOPLE 15,000 colones (U.S. $ 30) round trip
(0) Comments
Add Comment

Close
Be the first to comment on this listing!
Advertising
Gallery
Click the photos to enlarge
Features
Map