Bar and Restaurant Villa Leonor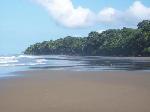 Lunch and Dinner at Playa Ballena.Join us for a day at the beach or an evening sunset and also enjoy the amenities of Ballena Beach Club, pools, showers, gardens and secure parking.Our menu is oriented around seafood plates with Traditional Casados as well. Specialty of the House are thick steaks of Yellow Fin Tuna and Tender Strips of Calamari.
Bar and Restaurante Villa Leonor
On Playa Ballena
Sunday BBQ
Whole Red Snapper Cooked in Banana Leaves on the BBQ
_______________________________
Dinner
Reservations Suggested after 5pm in Slow Season
(0) Comments
Add Comment

Close
Be the first to comment on this listing!
Advertising
Gallery
Click the photos to enlarge
Features
Map
Tours in the area
Lodgins in the area