Cabinas Hidalgo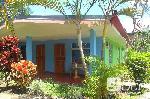 Hidalgo offers cozy cabins with air conditioning and hot water at an affordable price. We are 5 minutes walk from Playa Tortuga and mangroves and the Balso River.
In Hidalgo cabins offer spacious rooms with:
Two beds, one double and one single.
Private bathroom.
T.V. cable.
Corridor.
A / C.
Refrigerator.
Hot water.
Ample parking.
(0) Comments
Add Comment

Close
Be the first to comment on this listing!
Advertising
Gallery
Click the photos to enlarge
Features
Features
Air Conditioned
Bar
Cable
Hot Water
Internet
Kitchen
Laundry
Parking
Private garden
Refrigerator
Restaurant
Theme
Adventure
Bird Watching
Whale Watching
Beach
Families
Traveler Type
Families
Single
Couple
Group
Map
Book