Cabinas Mamma y Papa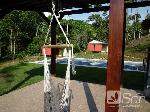 Mamma and Papa cabins offer a break surrounded by the sounds of nature to spend a very special evening, cleanliness, and freshness are the obvious characteristics that are seen entering our rooms. The peace and tranquility in the area and the edge of the pool, make the friendly animals do not worry about our presence.
Mamma and Papa Cabins
The concrete rooms immersed in the green, surrounded by lush nature and close to the pool give a feeling of freshness and safety. Inside a large king bed with a comfortable mattress.
· Air Conditioning
· Ceiling fan
· Bathroom with hot water
The area offers a variety of interesting activities, such as horseback riding, guided tours at sea or Caño Island, diving and adventure activities such as ultralight, canopy, and many others. The largest national park in the area is the Ballena Marine Park, which attracts international attention for the large number of humpback whales that come close to the coast, mainly between the months of August to October and from December to April, to have their young and mate.
Some tourist destinations in the area.
· Ballena National Marine Park
· Caño Island Biological Reserve
· Corcovado National Park
· Manuel Antonio National Park
(0) Comments
Add Comment

Close
Be the first to comment on this listing!
Advertising
Gallery
Click the photos to enlarge
Features
Features
Air Conditioned
Fan
Hot Water
Laundry
Mountain View
Parking
Pool
Restaurant
Theme
Adventure
Bird Watching
Beach
Ecotourism
Families
Hiking
Honeymoon
Luxury
Details of prices
Lowest price $ 80
Double room:
2 Adults $ 80.00 + tax = $ 90.40 *
Triple Room:
2 Adults $ 84.00 + tax = $ 94.92 *
3 Adults $ 104.00 + tax = $ 117.50 *
2 Adults and 1 Child $ 97.00 + tax = $ 109.90 *
Family Room:
2 Adults $ 86.67 + tax = $ 97.94 *
4 Adults $ 126.60 + tax = $ 143.10 *
3 Adults and 1 Child $ 120.00 + tax = $ 135.60 *
2 Adults and 2 Children $ 113.20 + tax = $ 128.60 *
Children less than 13 years =
* Price per day, includes daily cleaning and breakfast
Map
Book